Imagine immaculate white walls, wicker furniture pieces, and floral throw rugs. A shabby chic decor is a delightful mix of restful elegance and old-world charm — the perfect interior for your Airbnb property. A property rental business can be a suitable place to start, wherein you can be assisted by experts from a company like Small Business Mentor.
We rounded up five pointers on how you can refashion your hospitality rental into a breathtaking hideaway:
Delicate Tones
The shabby chic interior design was carved out in the quaint villages of Great Britain in the 1900s. This particular style was later introduced to American homes in the 1980s, gradually becoming a popular choice for middle-class households. The shabby chic decor is an enchanting aesthetic as it strikes a balance between ruggedness and old-school opulence.
To begin the process of redressing your Airbnb property, paint your walls with a neutral color palette. Opt for subdued colors such as ivory white, classic beige, smoke embers, or soft tan. These muted hues create a simple yet luxurious ambiance to your rental space. That is perfect for guests who are looking for a peaceful and relaxing hideaway spot. If you want a pop of color, you can also refashion your walls with pastel colors such as light lilac, baby blue, soft custard, and pastel mint. A muted backdrop is the perfect blank canvas, so make sure to choose a palette that is not overbearing.
Natural Flooring
Opt for natural-looking floorboards for your hospitality property as they help create a rustic feel to your interior. There are various types of hardwood flooring you can choose from — parquet, laminate, bamboo, reclaimed wood, and cork.
When choosing the best floorboard for your living area, select a type with a lighter shade to jive well with your shabby chic interior. Choosing one with a more natural finish will also give your Airbnb rental an authentic vintage look.
For your bathroom, if you want to maintain a rustic atmosphere, you can still go for organic-looking flooring. However, you can always jazz it up with tiles with stylish patchwork patterns. But if you want to establish an Old English vibe, opt for distressed checkered tiles. Giving your bathroom flooring a weathered look will help you achieve that 1900s vintage feel, which will surely leave your guests mesmerized.
Rugged Furniture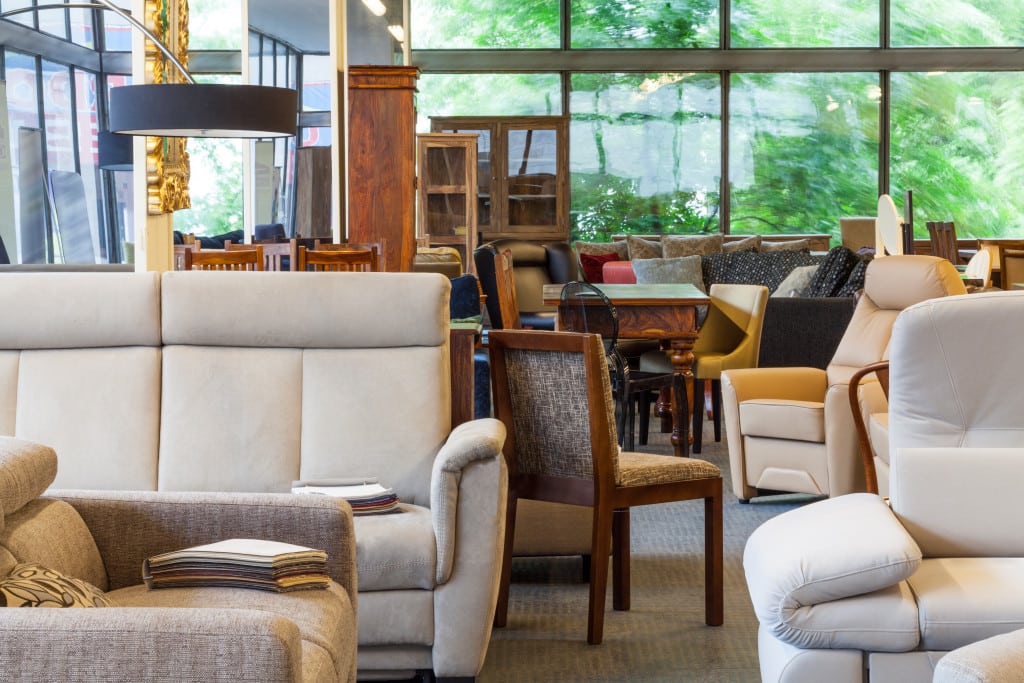 A shabby chic interior is all about ornate and antique-looking furniture pieces. To add an element of old-world opulence to your Airbnb interior, opt for chunky couches with pale-colored slipcovers. Covered sofas are trademarks of a shabby chic interior, so don't forget to include them when designing your rental space.
Wooden furniture pieces are also a must in your shabby chic property. Lounge chairs, coffee tables, dressers, kitchen tables, and bed frames made out of natural materials will give your living room a homey vintage feel. The wooden aesthetic is also an excellent visual disruption to a shabby chic space.
You might also want to look for ivory-colored furniture pieces as they perfectly capture the English village life. But if you're having a hard time looking for bleached furniture elements, you can source antique ones and cover them with a thin coat of white paint. To give it an authentic rustic look, scrub the top layer with sandpaper. Don't worry because giving your furniture pieces a distressed appearance will help you achieve a shabby chic interior.
Textured Fabrics
Shabby chic spaces embrace texture. For the bedding of your Airbnb property, make use of subdued colors, specifically white, cream, or beige. To add interesting visual contrast, you can add patterned quilts and pastel-colored throw pillows on top of the bed. If you want, you can also include throw pillows with feminine or floral patterns for a little variety in the design.
For an element of sophistication, use delicate white drapes in the bedroom area. Airy curtains will help shape up an atmosphere of restful elegance to the room.
You should also add colorful accents to your property's living area. Spruce up your couches with throw pillows with theatrical patterns and bold colors. Design your sofa with throw pillows of various shapes and sizes to create a warm and inviting ambiance.
Vintage Knick-Knacks
A shabby chic interior embraces scattered trinkets and decorative ornaments. So, adorn your dressers, coffee tables, and nightstands with antique-looking knick-knacks. You can toss in an interesting mix of picture frames, flower vases, and sculptural pieces. Of course, your interior will not be complete without installing ornate mirrors on your walls. Opt for large-sized mirrors with different sizes to add dimension to your cozy rental space.
Indeed, a shabby chic interior is a timeless style fit for modern times. By following these five steps, you can successfully turn your Airbnb property into an enchanting, peaceful, and relaxing hideaway.
If you want your hospitality business to take off, you can phone in assistance from experts. This company will help you turn your simple Airbnb venture into a lucrative enterprise.