What do a rock concert, a college class, and a random lunch date have in common? Easy—these are all events that people can wear T-shirts to. T-shirts may not have a dedicated place in the world of high-end fashion, but for everyday consumers, these pieces of clothing are necessities.
T-shirts are the easiest clothes to wear for any occasion. It can be kept simple for casual events or paired with a blazer to elevate the visual appeal. They can also be personalized to fit the individual preferences of people, which makes selling T-shirts an attractive business opportunity that is a surefire for success.
This is because you can sell T-shirts to anyone: men, women, kids, and everyone in between. T-shirts have no gender, age, nor economic status simply because they are only clothes. And clothes don't make the person, but their style does. Here are three creative t-shirt business ideas that you can use for your shop:
Graphic Tee Printing
One of the easiest and most practical options on this list is to start a graphic tee printing business. This is because there's always a demand for high-quality T-shirt printing shops for organizations, activities, or events. You can cater to these communities who often order in bulk and are limited by time constraints.
Of course, you will need to have your own equipment if you want to run this business. That means that you need to test several types of T-shirt printers to find the best one that produces high-quality images, graphics, or labels for your customers.
For instance, you can choose a machine that uses a special ink that ingrains itself within the fabric instead of residing on top because it's more durable that way. With your own sublimation heat press and a good supplier of T-shirts, your business can reach heights you never thought possible.
Custom Hand-painted Shirts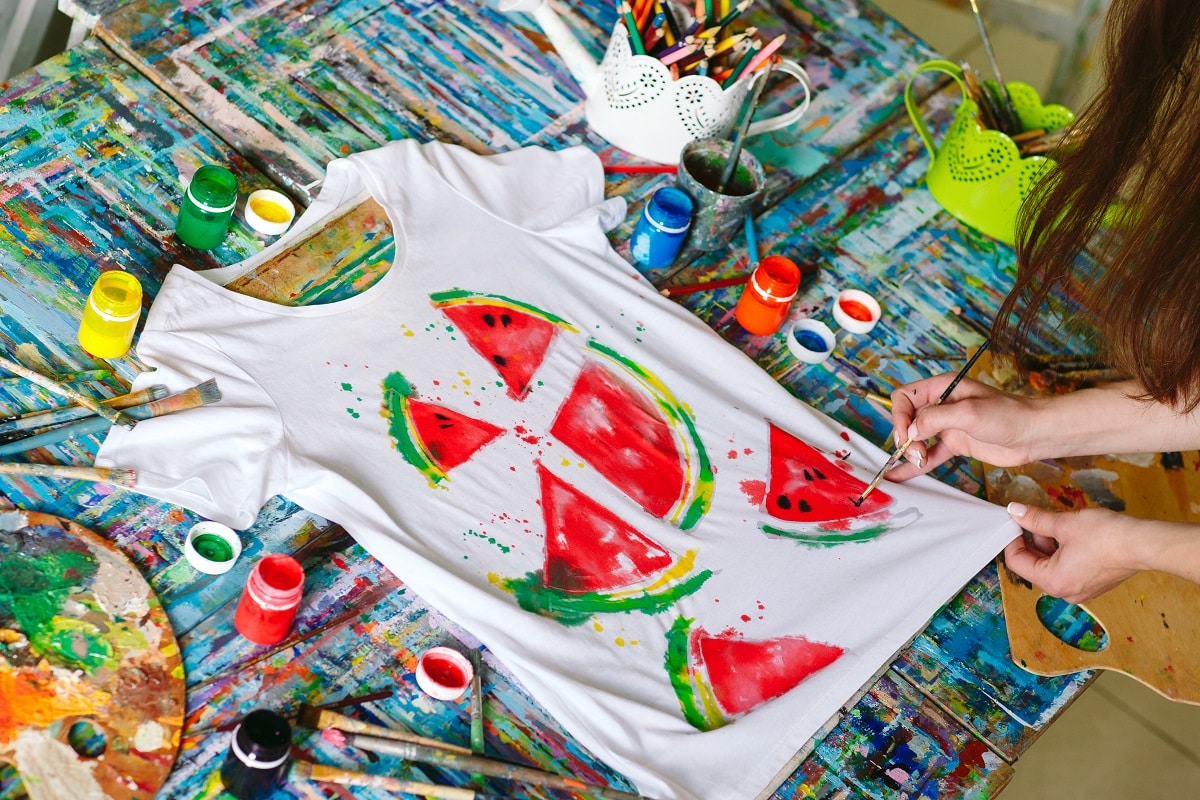 If you want to showcase your talent and skill in the arts, then you can start a business that offers custom hand-painted shirts for customers. This can be a made-to-order type of business because the customization and manual labor will take time to accomplish.
Although you can't cater to bulk orders, you will be able to make one-of-a-kind T-shirts made specifically for your customers, which can raise intrigue among enthusiasts and collectors. In addition to that, you will have a creative outlet that is both profitable and brings you joy.
With a business of this nature, the best way to go is to start small. Dip your toes in the water and see how the market will react. Once you've made a name for yourself in this novelty niche, it will be easy to attract like-minded artists who want to help you create wearable art for everyone.
Upcycled Vintage T-shirts
Thrift shopping is one of the many activities that people don't particularly enjoy doing. Most thrift shops are filled to the brim with old clothes passed down from generations or donated by strangers, which makes them an unattractive place for people who don't have the patience to sift through piles of used clothing.
However, for fashion enthusiasts and spendthrift dressers, thrift shops are like gold mines for vintage finds. These shops are great places where you can discover unique gems that can be upcycled to fit a certain style, or finished with minor repairs before being sold as one-of-a-kind shirts.
There's a big possibility that you will find popular band tees, shirts with different cities printed on them, disco-inspired pieces, statement shirts, or brand T-shirts that are perfect for retro and vintage-style dressers. You can choose to keep them as is or as the basis of a completely new design.
Through thrift shops, you can find great pieces that you can resell to fashion enthusiasts who don't have the time to thrift themselves. You might not be starting your own line of clothing, but you can be encouraging people to consider choosing more sustainable practices in how they dress.
As with all businesses, you can't begin operating without covering all the grounds of business management first. This can include creating a business plan, choosing your target market, identifying the platforms that you will use, finding your shirt supplier, or the logistical matters for your shop.
You will also need to build capital by either taking money from your savings or applying for a loan to cover the expenses of your operation. Starting a business can be overwhelming, especially if you're alone. But it's not impossible, and with the right resources, your business will be up and running in no time.